Stimulus payments from the cares act
here's what you need to know
Update based on information available as of January 26, 2021
The IRS will reissue $5.2 million Economic Impact Payments (EIP) beginning this week - $2.8 million by direct deposit and the remaining will be sent by check. These payments are reissuances of prior payments sent in error by the IRS to accounts at tax preparers and that were subsequently returned at the specific instructions of the IRS. Once these payments are complete, no additional EIPs will be sent. The Recovery Rebate claimed on a 2020 tax return will be the only option.
Update based on information available as of January 11, 2021
The IRS continues to take additional steps to get the second Economic Impact Payments (EIP) to more eligible taxpayers. The IRS will reissue payments for taxpayers who did not receive the second EIP in instances where the bank account identified in our records has been closed. This impacts taxpayers whose tax preparation providers followed initial IRS guidance and are now waiting for the IRS to reprocess payments related to these accounts. Payments will be issued directly from the government later this month, within weeks of the law being enacted. For people in this group, payments may be issued either as a paper check or a direct deposit. Taxpayers do not need to take any action or call; this will be done automatically.
As of January 8, 2021 TurboTax has indicated that any stimulus payments it has received will begin to be deposited to the same bank account that was used for depositing customers' 2019 tax refunds.
The IRS has indicated that approximately 8 million Stimulus/Economic Impact Payments(EIP) will be issued via Visa prepaid cards. The EIP cards are being sent in a white envelope that prominently displays the U.S. Department of the Treasury seal. It has the Visa name on the front and the issuing bank name, MetaBank©, N.A. on the back of the card. Each mailing will include instructions on how to securely activate and use the EIP Card.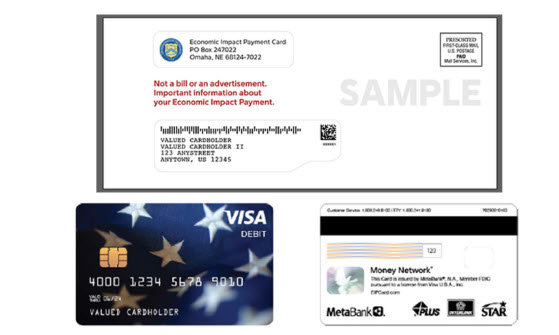 Consumers who wish to determine the status of their stimulus payment should do so by using the Get My Payment (GMP) tool from the IRS on or after January 5th.
If you checked GMP on or after January 5, then:
If GMP reflects a direct deposit date and partial account information, then your payment is deposited there - if the account and individual information sent from the IRS does NOT match what a financial institution has on file, they must, by law, return the payment to the IRS

If GMP reflects the date your payment was mailed, it may take up to 3-4 weeks for you to receive the payment - watch your mail closely for a check or debit card

If GMP shows "Payment Status #2 - Not Available", then you will not receive a second stimulus payment either by direct deposit or by mail and will need to claim the Recovery Rebate Credit on your 2020 tax return
If you used a tax preparation service to file your 2019 or 2018 taxes and received an advance on your return from that company, then you may want to check with them as to the status of your stimulus payment.
TurboTax is working with the IRS to provide them with bank account information for customers who paid for TurboTax with their refund or help customers who received their refund via a prepaid Turbo Visa Debit Card obtain a replacement card.
H&R Block has indicated that all second stimulus payments that they were able to process were immediately deposited on to H&R Block's Emerald Prepaid Mastercard or to customers' bank accounts, depending upon how 2019 tax refunds were received. H&R Block customers who have Emerald Cards are advised to call 1-866-356-1266 to receive stimulus payment information. All other H&R Block customers can call 1-800-HRBLOCK (478-5685) as they may be able to receive automated second stimulus payment information.
Update based on information available as of December 30, 2020
The IRS has established the Coronavirus Tax Relief and Economic Impact Payments site to help consumers and businesses learn more about all the ways they are offering help to those affected by COVID-19. It's a great resource that provides a wealth of valuable information.
The IRS will start sending Economic Impact Payments in waves starting December 29, 2020. Here are some of the most frequently asked questions about how and when consumers will start to receive them.
If you would like information on your payment status, your payment type and if the IRS needs more information from you, including bank account information, please visit their Get My Payment application page.
What do I need to do to receive my payment?
Most people won't need to take any action. There is no need to call the IRS. Visit the IRS' Economic Impact Payments page or this page for updates.
When will the payments be disbursed?
The first batch of stimulus checks will be posting effective December 31st.
What amount will be paid and who is eligible to receive a payment?
Most adults will get a one-time payment of $600 if they are filing as single. Married couples filing jointly will get $1,200. In addition, those with qualifying children will also receive $600 for each qualifying child.
Generally, if you have adjusted gross income in 2019 up to $75,000 for individuals and up to $150,000 for married couples filing jointly you will receive the full amount of the second stimulus payment. For files with income above these limits, the payment amount is reduced.
You can find your adjusted gross income on Line 8b of the 2019 1040 federal tax return. If you haven't filed your 2019 tax return the IRS will look at your 2018 tax return.
Please visit the Economic Impact Payment Information Center for complete details.
How will I know the status of my payment?
The IRS has launched the Get My Payment application that can be used for:
Checking your payment status
Confirming your payment type: direct deposit or check
Entering your bank or credit union account information for direct deposit if the IRS doesn't have your direct deposit information and they have not sent your payment yet
If you've had your tax refunds or have your benefits direct deposited into your First South Financial accounts, you will be able to see pending deposits in online banking.
What if I have additional questions?
Please visit the IRS' Economic Impact Payments page for complete details and the latest information.
We stand ready to help you. Please visit our member assistance program page to see how we can help you through these highly unusual and trying times.
Go to main navigation