check out this great credit card offer!
Open a First South Financial Titanium/Edge card today and get 0% for 12 months on purchases and balance transfers made in the first 90 days!*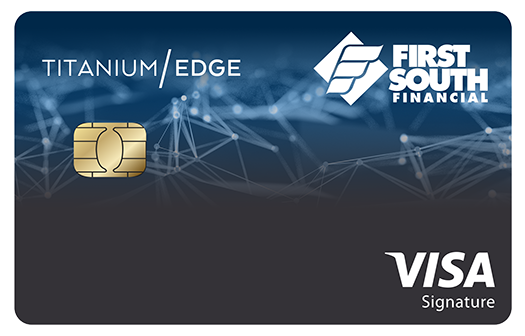 Earn 10,000 bonus points when you spend $1,000 on purchases in the first 90 days!

And now until 12/31/21 earn double points for all retail purchases!
Double points offer is also good for our Flex/Rewards card too!
To find out more, call us today at 901-380-7400 or stop by any of our banking centers.
0.00% APR 12-month intro rate offer is also available for our Platinum Advantage and Platinum Flex/Rewards credit cards too!
Titanium/Edge Application Disclosure
*Offers valid until 12/31/21 and are subject to change or withdrawal without notice. Please see us for complete details. 0.00% APR is valid for a period of 12 billing cycles based on the card open date. On the 13th billing cycle the rate will convert to the rate for which you qualify. Balance transfers are subject to a per balance transfer fee of $5 or 3% of the balance transfer amount, whichever is greater. Double points offer is valid for retail purchases only for Titanium/edge and Flex/Rewards cards for purchases minus returns. Some offers do not apply to existing First South Financial Visa credit cards. Balances cannot be transferred from existing First South Financial loans or credit cards. Credit cards are subject to approval criteria, not all applicants will qualify. No annual fee.
Go to main navigation