Visa Debit/ATM Card
Free VISA/ATM Debit Card with EMV chip technology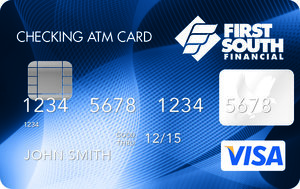 Our debit cards have built-in chip technology. These cards are more secure and easy to use. When you use your card at a chip-activated terminal, the embedded chip generates a one-time use code. This code is virtually impossible to counterfeit and helps reduce in-store fraud.
If a merchant does not have a chip-activated terminal, you will swipe your card as you do now. If there is a chip-activated terminal available, follow these easy steps:
Insert the chip end of the card into the terminal with the chip facing up.
Keep the card in the terminal throughout the transaction and follow the prompts on screen.
Remove your card when prompted and take your receipt.
Use your free First South Financial VISA debit card to access your account anywhere VISA is accepted to pay for purchases. Or use it at any First South Financial ATM 24 hours a day to make deposits and withdrawals, check your balance and make transfers at no charge to you*. The amount is deducted directly from your account. You have the convenience of a credit card but without the interest charges. To order yours today, stop by any one of our banking centers.
Instant Issue Debit Cards**
We also offer instant issue debit cards at the following banking centers:
Bartlett
Dyersburg
North Nashville
Southaven
Winchester
To find out how to order your instant issue debit card today - please give us a call at 901-380-7400.
*There is a per transaction fee for using a non-First South Financial ATM, plus any surcharge the owner of the ATM may charge.
** There is a fee for an instant issue card - please see us for complete details.
See how an EMV chipped debit card can benefit you!
Lost or Stolen Debit Cards
To report a lost or stolen First South Financial Visa debit card, please call 888-918-7809 AND notify First South Financial at 901-380-7400 or 800-872-3728 so we may stop non-authorized usage.
You may also stop by any First South Financial banking center.
Helpful hints for avoiding debit and credit card fraud
Data breaches are becoming more and more common for retailers. This means that your debit and credit card information may be more vulnerable to confiscation by hackers. However, by using a few simple tips you can go a long way towards protecting your card information. Here are some best practices from our fraud experts:
Sign up for eAlerts and fraud alerts for your debit card transactions. This free feature is available inside online banking and can be set up for a wide range of debit card transactions, such as being notified of each and every debit card transaction that clears your account.

Use online banking and mobile banking to keep a close eye on your accounts. These free services give you the ability to check your transaction history 24/7. For more information on these services please visit firstsouth.com. Also, reviewing your monthly statement is a good way to spot fraudulent transactions.

Change your PIN periodically. We offer a toll-free number, 866-985-2273, that you can use to change your First South Financial Visa debit card PIN. It's a fast and easy process that can really help keep your card information secure.

Never write your PIN on your card or keep it in your wallet. If your wallet is stolen, thieves have immediate access to your accounts.

Try not to use the last four digits of your Social Security Number, your phone number or your street address for your PIN. While these may be easy to remember, they are also the first sets of numbers fraudsters will try to use should they steal your debit card.
Verified by Visa for debit cards
Protect yourself when you shop online with Verified by Visa for debit cards! This extra layer of security requires that you enter a password when shopping at merchant sites that offer Verified by Visa. To Register your First South Financial Visa Debit Card today.
Debit Card Holds
When you use your debit card to make a purchase, the needed funds are placed on hold, meaning it is no longer part of your available balance. That way, the money is there to clear that transaction when the item is presented for payment. To avoid this affecting your account negatively, use a credit card for buying gas, reserving hotel rooms or rental cars or ask the merchant how much the pre-authorized hold amount will be and place additional funds in your checking account to cover it.
Go to main navigation