strength and stability
Frequently Asked Questions
Are my accounts safe at First South Financial?
Your accounts are just as safe at First South Financial as with any federally insured financial institution. In fact, if you are a member of First South Financial, you are banking with one of the top 2% of financial institutions in the entire country in terms of financial strength and stability.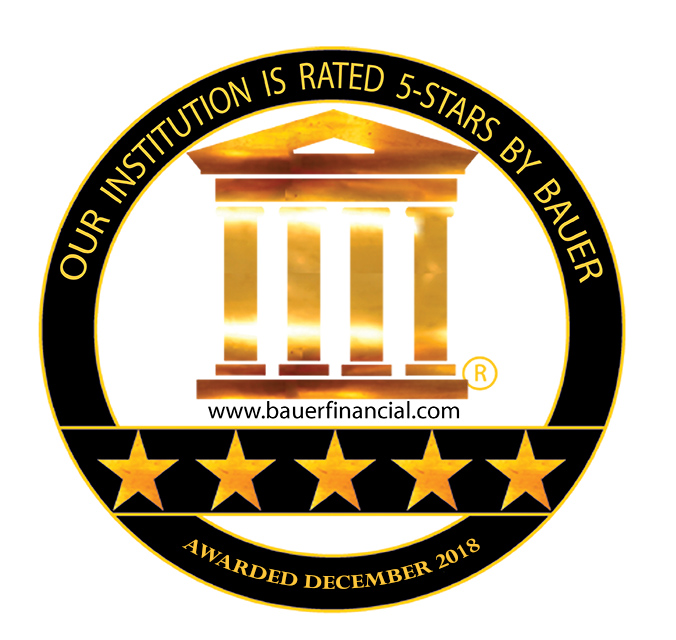 We are the strongest financial institution in Tennessee according to independent rating agencies such as IDC and Bauer's.
Our INDEPENDENT NET ECONOMIC VALUE RISK ANALYSIS found that First South Financial has an excellent investment mix and that the balance sheet is very well planned. It was also noted that there is VERY LITTLE RISK to our balance sheet.
Independent rating agency IDC has given First South Financial a perfect 300, making us the strongest financial institution in Tennessee and among the strongest in the country - 22 years and counting. This is the longest run of perfect scores for any financial institution in the state of Tennessee. To contact IDC, please call 800.525.5457.
Independent rating agency Bauer's has given First South Financial at least 24 years of 5-star ratings. A five-star rating is the highest rating any financial institution can achieve and no other financial institution in Tennessee has achieved a longer run of 5-star ratings than First South Financial. You may visit Bauer's web site at www.bauerfinancial.com to view our rating.
Independent rating agency Weiss Ratings gives First South Financial a rating of A+! This puts us in the top twenty of all credit unions nationwide and makes us the strongest credit union in Tennessee! To view our ratings, visit Weiss Ratings.
The NCUA, an agency of the U.S. Government provides the insurance on members' accounts through the National Credit Union Share Insurance Fund (NCUSIF). To find out more about federal insurance for your credit union accounts, click here.
Who can join First South Financial?
Anyone living, working, worshiping or attending school in the Memphis Metropolitan Statistical Area (MSA), in Dyer and Madison counties or in North Nashville, Tennessee is eligible for membership. You are also eligible if you are related to a First South member.
||TOP||
How do I join First South Financial?
Joining First South Financial is easy! Simply click on the "Open an Account" button located on every page of our web site.
||TOP||
What career opportunities are available at First South Financial?
Please call our Human Resources Department at 901.380.7400 or 800.872.3728 for more information about exciting opportunities available with a rapidly growing financial institution! Or visit our job listings page.
||TOP||
What is your privacy policy?
First South Financial maintains the strictest standards in protecting the privacy of you, our members. The information we collect is used only to administer your accounts and allows us to meet your financial needs. Procedures to protect your privacy have been carefully developed and employees are trained to consistently apply them.
||TOP||
How is my information kept secure?
Security measures are in place to control unauthorized access to information about your account. These include but are not limited to the following:
Proper shredding and disposal of paper documents
Optional code words available for member accounts
SSL encryption for online information transmission such as when accessing accounts online and using bill pay
Procedures to establish your identity are followed by staff before information is released to you or actions are taken in relation to your account
In the course of doing business, information available from public records may be added to the information you provide to us. This is used only to help you learn more about products and services that may interest you.
Information about your account is released to third parties that partner with First South Financial only when necessary to conduct financial business authorized by your account agreement with us. These include credit card payment processors, bill payment vendors, credit bureaus and other similar entities.
First South Financial does not sell or provide member information to mailing lists. From time to time special offers may be made to members directly by First South Financial. Occasionally, credit union affiliates and subsidiaries will be provided basic information only in order to make special offers to members. This information is provided only to offer a broader array of products and services and is only provided to organizations that follow strict confidentiality requirements. No confidential account or personal information is released to these or any other third parties, except where we believe it to be required by law.
Members wishing to have their names removed from national lists should:
Write to the Direct Marketing Association's Mail Preference Service, P.O.. Box 9008, Farmingdale NY 11753-9008. Include your name, address and phone number with your request to be taken off mass mailing lists. You may also call 1.888.567.8688 to have your name taken off prescreened lists from the major credit bureaus.
||TOP||
Is my information accurate?
We take all steps possible to ensure the accuracy of your account information. If you think any of your account information may contain inaccuracies, please report these by calling the phone number on your account statement. If there is inaccurate information, we will correct it as quickly as possible.
||TOP||
Are online banking and mobile banking safe?
We have taken all possible steps to ensure information that is exchanged between you and us online is protected. Our website and mobile banking app provide Secure Socket Layer (SSL) connections directly between you and us. Only provide your User ID and password when your browser indicates this type of connection to us. No information obtained from you during online banking sessions or mobile banking session is ever provided to anyone outside the credit union. Your visits to our web site remain anonymous. We only collect non-identifying information that is aggregated to identify dates and times of visits, IP addresses, and web browsers most often used, pages of our site most often visited, etc.
When accessing online banking or mobile banking, completing forms or answering surveys, you may be asked for your email address. This is optional and will be used only by us to handle your request. We will preserve the content of your email, your email address and our responses in order to follow-up with you. We may occasionally contact you by email to inform you of beneficial services. You may ask to be removed from this notification list if you choose. Your email address will not be provided to outside entities.
If you are contacting us via e-mail, please realize that this is not a secure means of communication.
Some areas of our web site may use cookies to allow the web server to log the pages you use within our site. This does not provide us with identifiable information and is not used to determine who you are or your email address.
||TOP||
Other Questions
When legally required or permitted, we may exchange information with credit bureaus or in connection with a fraud investigation.
We do not knowingly collect information from children or market to children.
Go to main navigation