Payment options
Pay in the way that works best for you!
We offer several ways for you to make payments to your First South Financial loan, mortgage or credit card.
Transfers from your First South Financial accounts
This option can be set up for either your First South Financial loan, mortgage or credit card via online banking or mobile banking. You have the option to make a one-time payment within mobile banking only, the recurring payments option must be set up within online banking. If you're paying a loan or mortgage, select "Transfers" from the blue menu bar inside online banking. If you are setting up recurring payments for your First South Financial Visa Platinum card, click on the "Credit Cards" tab and then select "Make a payment" from the menu on the right.
If you don't have an online banking user name and password, you can get set up quickly by clicking on the "need a user name?" link in the online banking area on every page of our web site.
For loan payments via mobile banking, select "Transfer" from the menu on the lift or tap on the money bag icon at the lower right of the main screen and then tap "transfer money".
Transfers from accounts you have with other financial institutions
This method also offers the option for a one-time payment or automatic recurring payments, but it is only available via online banking and for First South Financial loans at this time.
It's a quick and easy process! Check out the steps below or watch this video on how to set them up!
Log into online banking and select "transfers"
Select the "External Loan Payments" option

Click the "create" button at the bottom right of the page
Select the loan you wish to pay
Complete the information for the checking or savings account you want to use to pay the loan
The date to transfer should match your loan or mortgage's due date
Select the type of transfer - one time or recurring

NOTE: First South Financial mortgages can only use the recurring payments option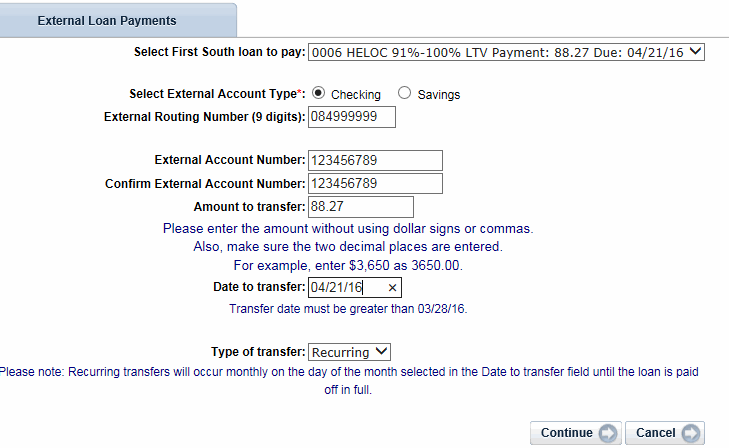 Click "Continue"
Review the information that appears on the recap screen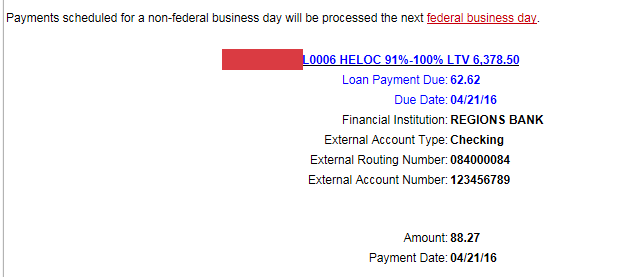 And that's it!
If you wish to set up automatic payments for your First South Financial credit card, click on the "Credit Cards" tab inside online banking or call us at 901-380-7400 and we'll be happy to assist you.
Other ways to pay
We can also accept payments via check or cash at any of our banking centers, or check by phone through our service center. For your convenience we have provided a generic loan coupon that you can print, complete and send in with your payment. Your loan and payment information can be found inside online or mobile banking.
If you have questions regarding how to make your loan payments, please feel free to call us at 901-380-7401 or email us at mail@firstouth.com.
Go to main navigation